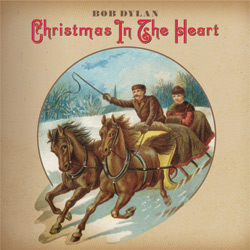 I got a little note in my e-mail today from my boyfriends record company. Columbia Records was eager to tell me about Bob Dylan's newest (and 47th) album available for pre-order today. Because I just can't make this shit up, here's what they told me about it:
Christmas In The Heart will be the 47th album from Bob Dylan, and follows his worldwide chart-topping Together Through Life, released earlier this year. Songs performed by Dylan on this new album include, "Here Comes Santa Claus," "Winter Wonderland," "Little Drummer Boy" and "Must Be Santa."





All of Bob Dylan's U.S. royalties from sales of these recordings will be donated to Feeding America, guaranteeing that more than four million meals will be provided to more than 1.4 million people in need in this country during this year's holiday season. Bob Dylan is also donating all of his future U.S. royalties from this album to Feeding America in perpetuity.





Additionally, Bob Dylan is partnering with two international charities to provide meals during the holidays for millions in need in the United Kingdom and the developing world, and will be donating all of his future international royalties from Christmas In The Heart to those organizations in perpetuity. Details regarding the international partnerships will be announced next week.





Bob Dylan commented, "It's a tragedy that more than 35 million people in this country alone—12 million of those children—often go to bed hungry and wake up each morning unsure of where their next meal is coming from. I join the good people of Feeding America in the hope that our efforts can bring some food security to people in need during this holiday season."



I just… I mean… Oh good lord. The thought of that clogged-with-lungers voice gargling out Christmas carols has had me off my feed all day. I just… I mean… Oh good lord. Will no one think of the CHILDREN? What if some misguided Dylan fan pumps that shit into the airwaves at a shopping mall? The sound of Christmas music when well done (and to be honest, I think well performed, or well written Christmas music to be an oxymoron) sends me searching for the nearest gun outlet. I can't go shopping between September and December 26 anyway. But the BOB??? Doing Little Drummer Boy? Could it possibly be worse than this:


Oh, you know it can. Maybe not as gawdawful cheesy, but worse. I mean… I just… Look, it's not that Jews don't do Christmas albums. Think Barbra Streisand. But Bob? His born-again music was pretty fucking dreary, but this? I just cannot wrap my mind around it. And no, i don't think I'll be buying it, either. In every sense of that phrase. And yeah, it's great and all that he's going to donate the proceeds to feeding the hungry, but really and come on, is this going to sell more than 100 copies? Dude, just break out the checkbook. Sign over the royalties to, I don't know, Mr. Tambourine Man or something that might bring in enough to buy a 100 pound sack of rice.