In Just Spring
In keeping with my recent theme of post titles with snippets from the works of artists I don't much care for… and before the hate comments come pouring in, yeah, yeah, yeah. e.e. cummings was a fucking genius. But if I had a nickle for every time some well-meaning English teacher made me suffer through that little lame balloon man, I'd be rich. Well, I'd be rich enough to buy a grande Starbucks. If we're going to suffer through the no caps thing, I'd rather read anything from Don Marquis. And if we're just going to be reading from the American poets of the 50s, then I'd rather be reading about Frost's stupid fence or his diverging roads. Or Laurence Ferlinghetti's trips. And if we're widening this to all areas and times, then even Wordsworth's lonely little cloud beats that stupid twee balloon man. And I positively adore the sleekit, cowrin', tim'rous beastie.
Anyway. It is spring, and that means new shoes are showing up on the train platform. There has been such a dearth of fine footwear these past years, what with the ubiquitous yet slovenly flip-flop, and the equally ubiquitous peep-toe pump. There have been the abominations that are Crocs and Uggs. There is that goat-hoof looking platform made popular by the Olsen gnomes, and the endless parade of gladiator sandals. People! That movie was ten years ago, already. Let it go.
But on Friday, the first sign of spring appeared. Sweeter than a robin, brighter than a daffodil. Pink cow spot strappy sandals on a pink cow spot skin wedge. Sweet.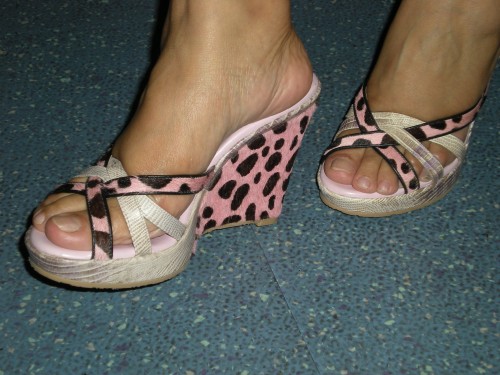 Posted by
.(JavaScript must be enabled to view this email address)
on 03/29 at 08:22 PM in
As I See It