In the Windmills of Your Mind
Or, more accurately, in the hamster treadmill of yours truly's mind. I started with the bathroom, packing up stuff I won't need in the next 2 months, probably less, but who knows for date certain when we will relocate hearth and home to points north. Sitting on the floor, looking at the stuff in the little storage cabinet, not the medicine cabinet over the sink. You know, the place where you put stuff you don't need or only need once and a great while, but yet often enough to keep on hand, just not something that has to be easily reachable, either.
THAT
cabinet. There is all sorts of interesting stuff in there. Out of date sun screen, a flea comb for the cat, last used two cats ago, and a broken brass incense burner.
If this were a drinking game, here's where you'd take a drink because it is me alone in my head, and here's where I go off on a tangent. This particular burner has been a part of my life since I was capable of being aware of it. In its first incarnation, it was my mother's: it was black and it sat in her sewing room on the bookshelf over the daybed in the old house. This is important. It will be on the test. It is small, round and sits on little foo dog feet, and has a pierced lid with another fierce dragon dog reclining upon it as a handle. By the mid-sixties it was living in my bedroom in the new house and went off to college with me. At some point I stripped it of its black paint, the reclining dragon came loose and there is a side piece broken off and living somewhere in my studio where I see it regularly enough to remember what it is and not to incorporate it into a piece of found object art before I find someone who can weld brass, or bronze, whatever this is. The point is, it is both older than me and been a part of my life since I can remember. It has moved from my mother's girlish possession, into her married life, whence I claimed it for my childhood bedroom, through I cannot remember how many dorm rooms; it has moved with me from Miami to NYC, to Miami and back north to Woodstock back to Miami and off to New Mexico and back again to Miami (and that's leaving out the dozen or so apartments I had and my divorce where I lost so many personal belongings) and now it is going back to what was my childhood bedroom, but is now the second guest bedroom, claimed jointly by Paulie and My Cousin Judy. I barely know how I am still here and in mostly one piece after all that, but how did this little thing make it through all those years and all those moves? What spirit is holding us together?
In retrospect, as I have uncovered so much of my mother's life before us (her years in NYC in the late 30s), that I presume this is a souvenir of her time there from some shop on Mott Street, perhaps, or maybe from Newport. In the event, seeing it was enough to bring back all of that and more, including the notion that it would be a good thing to take to the new house (
our
New House, which from 1966 until we bought it, was
also
my
parents
' New House, as opposed to the Old House--you see, it was on the test) this weekend when The Person Dressed in Black and I go to Stuart and sleep overnight.
Which brings us back full circle to why I was sitting on the floor and packing stuff from THAT cabinet to go to the guest bath in the New House which has generous built-in cabinets and a built-in laundry hamper...thank you MCM and efficient living. We are now about 6 weeks out from the move. It's just that THIS weekend is Halloween. And Mummy passed away two years ago on Halloween night, with yours truly and The Person Dressed in Black at her side. That makes it important to me to be there then (as opposed to being here now) this year and lay a path of marigolds to the front door and ask her spirit to come back and be honored. At least figuratively. I don't know where the hell I'd get marigold petals if I didn't grow my own. It isn't like there is a botanica in the neighborhood or anything....wait. I'm still here in Miami, I probably CAN get fresh marigolds.
But I digress.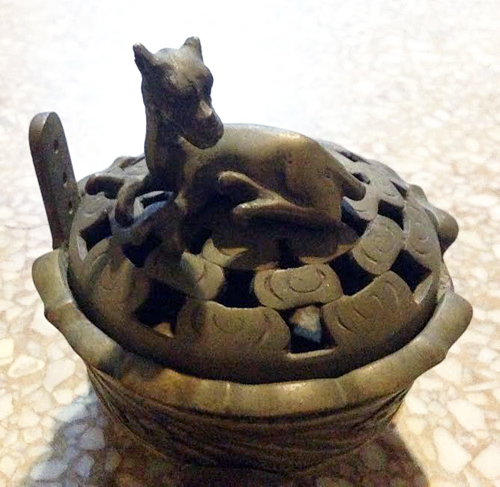 Posted by
.(JavaScript must be enabled to view this email address)
on 10/28 at 04:12 PM in
The Third Act