Look At All the Little Piggies
What seems like years ago, but was really only a month, I joined the Cobaya Gourmet Guinea Pigs, and underground foodie affair here in Miami. I grabbed Star and the two of us signed on for the VIP (Very Important Pig) Roast, starring the culinary stylings of Chef Jeremiah Bullfrog. It was advertised as an Iron Chef-style affair, with a main course of roast whole pig and five other dishes made of various and sundry pig parts. Well, I am all about the pig, so I was first in line for that. Literally. Star and I were the second and third to arrive at Harvey's on the Bay, a fabulous and undiscovered neighborhood bar housed in the back side of an American Legion Hall up on Biscayne Bay in the still-ungentrified 60s.
The feast began with chicharones, or cracklins as we call them in the Deep South. Rendered and fried tidbits of pig skin. In my culture, we do the same thing with poultry skin and it's called grebenes. Same thing, different animal: fried heart attack on a plate.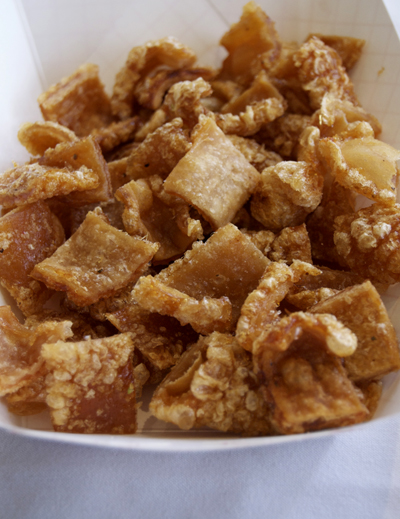 The cracklins were accompanied by little cocktails made of organic cherry syrup, seltzer and moonshine. Tasted like Dr. Brown's Cherry Soda, but left you face-planted on the concrete.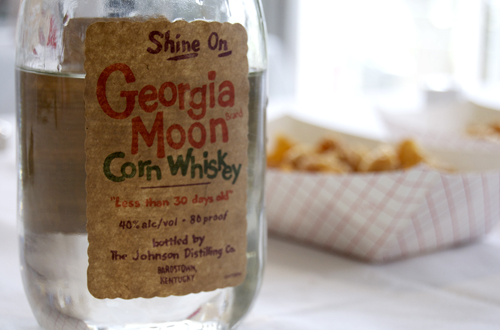 We then all trooped outside to meet the guest of honor, and watch as Chef Jeremiah prepared the caja china and loaded up the pig.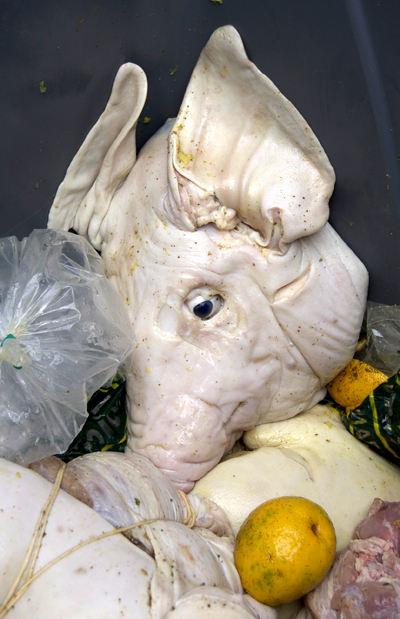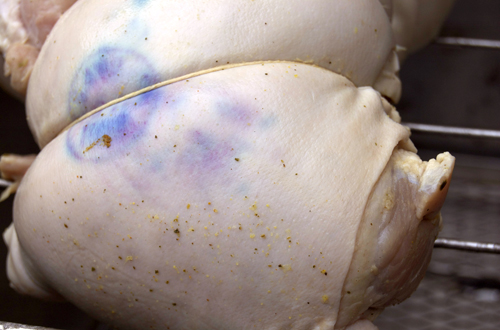 Back inside for some Chinese/North Carolina char sui bao. Chinese pork buns, but with a very un-Chinese bar-b-que style filling.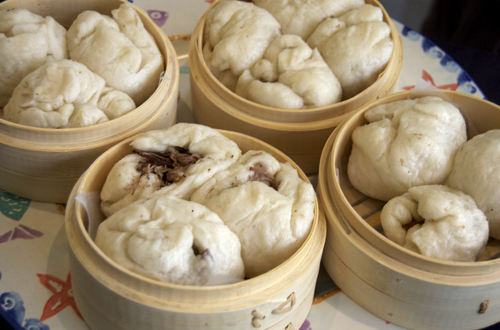 More like a Carolina, vinegar-based pork butt. Syringes of soy sauce were provided, and there were a couple of hot sauces as well. The prawn-chili sauce was particularly lovely.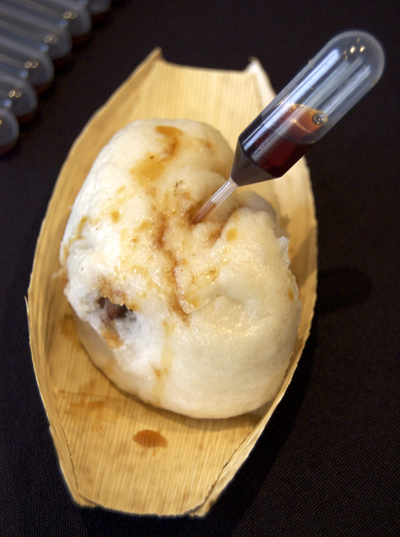 These little guys were followed by something described as a Mexican/Viet Namese fusion. It was a soft taco, filled with the most gelatinous thing I've ever eaten. I was already started to head into a pork-induced coma, and so I missed the details. It was trotter meat or pork cheeks or something. Whatever. It was, taste-wise, one of the purest flavors of pig imaginable. This may have been my favorite dish of the afternoon, despite the icky mouth feel. The tacos were topped with a carrot and cabbage slaw, very sharp and vinegary and healthy splashes of those chili sauces.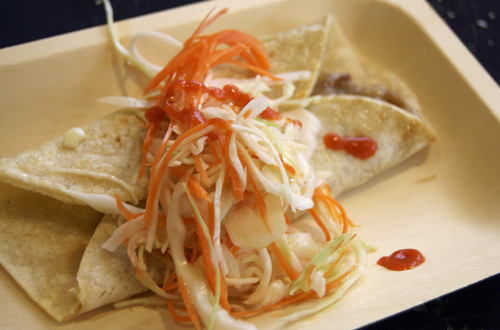 After that, we moved on to pork bellies, and that is where I drew the line in the sand, pig-part wise. While I found the images of the pig nipples fascinating, and couldn't shoot enough frames of them, the amount of fat and soft skin were beyond me to even attempt to eat. Chef J sliced up the bellies and made Cuban-style sandwiches, with pickles and mustard and crusty Cuban bread.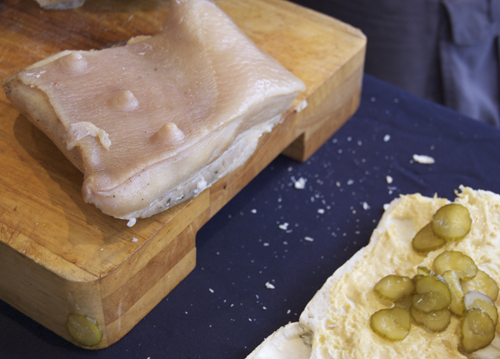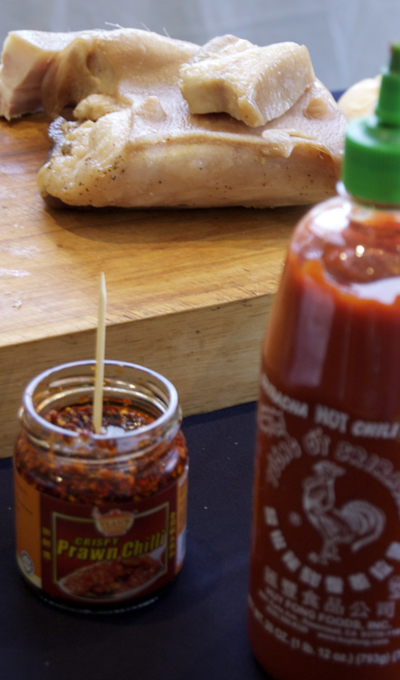 By now, the pig in the box was getting done, so we went out to check.

Yep, as the old Coppertone ads reminded us, it was Time to Turn. The pig got turned, coals were added and back we went for the next round of parts. Baby brauts or hot dogs? The skins were crisp and the meat juicy and the spicy mustard was a perfect compliment. I skipped the bun. Why waste time with bread when there is that magnificent pig roasting out back?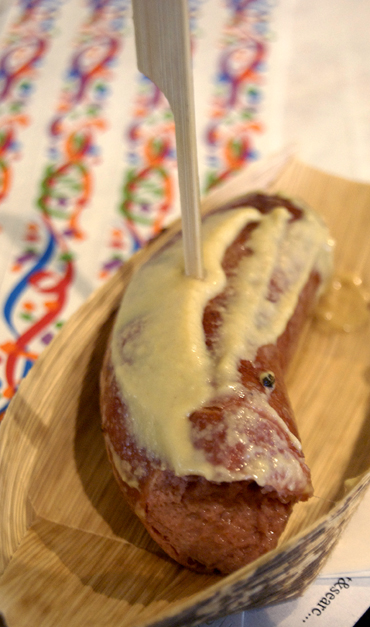 Finally, the pig was done. Chef Jeremiah brought it in and carved it up.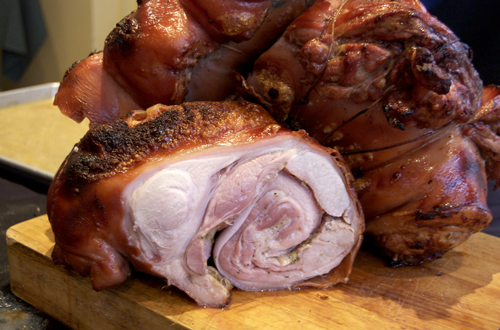 Plated, and with a side of sweet potato flan, this was the best roast pig, ever. (Except, and I'm sorry, Chef, but this is true, for the one that my friend's father roasted all those years ago, on a set of old bedsprings, over a fire pit. Said piglet was the product of a wild boar getting to a domesticated female on a flower farm up in Stuart. That is the roast pig gold standard.) Still and all, I couldn't have asked for more or better food and company. I'll be back for more of the Cobaya Guinea Pig events. Next time, I'll bring my own, titanium spork.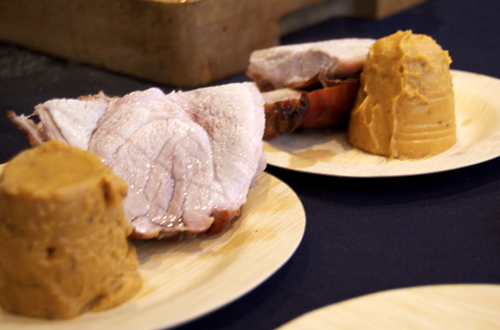 Posted by
.(JavaScript must be enabled to view this email address)
on 12/18 at 10:55 AM in
Food, Glorious Food