Main Street's Whitewashed Windows
The other day an article ran in the Miami Herald about the toll the recession is taking on Miami restaurants. They named names, listed locations, and there in the middle was one of my favorite places to eat: North 110. The owner/chef is Dewey LoSasso and I've been a fan of Chef Dewey since he was in the kitchen at the late, lamented Foundlings Club on Lincoln Road in the late 80s, early 90s. I was a member of the Foundlings, and the day that Chef Dewey put my mango marmalade on the menu with a rack of lamb, I felt I had earned a place in foodie heaven.
But now he's cutting back to only weekends, and putting his restaurant up for sale. I confess, I haven't been there in better than a year: I live at the other end of the county, and the time, and gas and honestly, the cost of the meal, have all conspired to keep me away.
At this end of the world, I went to Gil Capa's Bistro for my anniversary dinner. We were the only people in the place. All night. I don't know how Carmen and Gil can stay open, and it frightens me to think of Gil closing his kitchen. My girlfriend Star was a waitress for him in the 70s, and two of her three daughters have waited tables at this location.
My own family closed their business in 1984, when the mall opened up on the other side of town, and the big chain clothing stores (who carried the same brands we did, by and large) opened. Well, Jordan Marsh and Burdine's (both begun as family stores themselves) were swallowed by Federated, and are just memories, same as the Stuart Department Store. So maybe it's in my blood, but there is something very precious to me about an independently run business, a mom and pop brick and mortar store. That's why I'm adding a new badge to this blog, and throwing my support (and my money where my mouth is) behind the 3/50 project.
What is the 3/50 Project? Its stated goal is "Saving the brick and mortars our nation is built on." Here's the gist, from the front page of their site: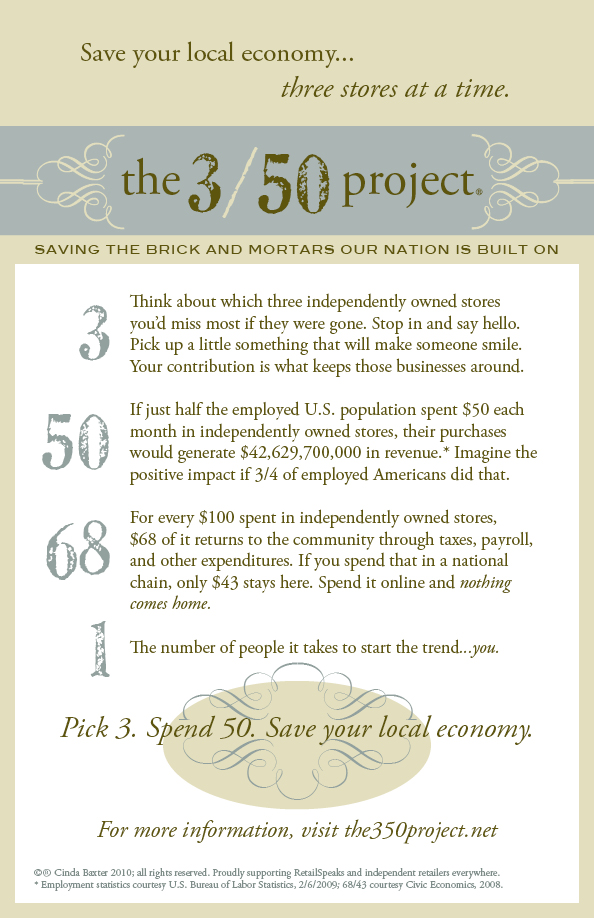 I pledge to eat at Gil's more often, to buy at the independent bookstore, to stop by my local yarn shop. It only takes one person to start a movement.
Posted by
.(JavaScript must be enabled to view this email address)
on 08/05 at 10:20 PM in
My Mind is a WMD