Miz Shoes Reviews: ANTM Season 10, Epi 7
Oh, nertz. I left my notes at home. And I can't remember anything except Claire finally got the axe. Lauren flailed around and managed to stay, but not before Paulina called her Frankenstein. The judges are getting particularly nasty about Dominique-inique-inique and Fatima. Whitney is a size 10, which in the model universe is fattyboombafatty.
So I give you this, instead of a recap: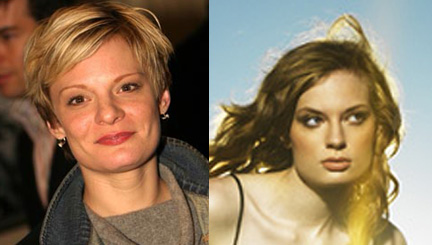 I had been sure that Lauren reminded me of some vintage blonde starlet, but I just couldn't remember which one. And then, in a moment of serendipty, she appeared in some random story or another on TMZ… a where are they now thing. AHA! Lauren was separated at birth from Martha Plimpton!
Posted by
.(JavaScript must be enabled to view this email address)
on 04/08 at 12:04 PM in
ANTM