Under the Sea
I ran across this the other day, and I am fascinated. Aquariums that look like landscapes. It's an aquatic variation on bonsai forests. But with fish. Swimming over the mountains. The Japanese have kicked our asses once again in the realm of the fantastic. And miniature. And tripping. Check this out, it's the number one aqua forest in the world.
This is number 15. Awesome. Everyone seems to use neon tetras, but I could never get the little bastards to live and reproduce.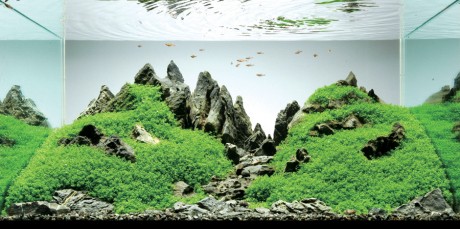 Geeky goodness, non? For those of you who, like me, were graphic designers in the dark ages before computers, I bring you the Museum of Forgotten Art Supplies. I think I have used everything in there, except the green eyeshade. I certainly still have a jar of Super White, a pack of rubylith, X-acto knives and blades, some of those exact Design markers, and sheets of press type and Pantone paper. I once had my house painted by handing the painter two sheets of Pantone and telling him to figure out the house paint equivalent. In case you are wondering, it was a conch-shell pink with aqua trim… PMS 270.
Finally, my college boyfriend who went on to do well, as opposed to the others who went on to drop off the face of the earth, has sent me a press release, and because I have a soft spot for Bruce, I'll pass it along:
Los Angeles, CA— Turner Classic Movies will feature on Sunday, January 18 at 9:00pm (Pacific Time) the world television premieres of the new 2K digital restoration of Manhatta (1921, Paul Strand and Charles Sheeler) and the new photo-chemical restoration of N.Y., N.Y. (1958, Francis Thompson) on "Sunday Silent Nights."
This TCM milestone broadcast of two abstract-experimental films restored by Bruce Posner and Anthology Film Archives, New York, will be followed on Monday, January 19 at 8:30pm (Pacific Time) at REDCAT with the Los Angeles premiere of Manhatta and N.Y., N.Y. as well as seven other restored film treasures at the Roy and Edna Disney/Calarts Theater in Walt Disney Concert Hall in Downtown Los Angeles.
The REDCAT screening will be presented by archivist, curator and filmmaker Bruce Posner, who will introduce the films and discuss the process of preservation and digital restoration for images at Lowry Digital, Brubank, and Cineric, Inc., New York and for audio and music at Chace Audio, Burbank, and Trackwise, New York. Posner was a recipient of a 2005 Special Citation from the Los Angeles Film Critics Association for his restoration of "Unseen Cinema: Early American Avant-garde Film 1893-1941," the groundbreaking film-dvd retrospective released by Image Entertainment.
Posted by
.(JavaScript must be enabled to view this email address)
on 12/17 at 11:12 AM in
Geek Goddess