No good deed goes unpunished they say, and RJ has punished me for getting her blogging by selecting me for this Arte y Pico Award a few days ago.
Since the original came from a blog written in Spanish, and my Spanish is limited to curses, sarcasm, menu items and finding the location of the nearest bathroom, I have to take RJ's word that "this award was created to be given to bloggers who inspire others with their creativity and their talents, and for contributing to the blogging world in whatever medium. When you receive this award it is considered a "special honor". Once you have received this award, you are to pass it on to 5 others. What a wonderful way to show some love and appreciation to your fellow bloggers!!!" I guess. I think a better way would be to leave comments or give me enough page views to make me more than a wiggly worm on The Truth Laid Bear's blog ecosystem, or nominate me for an award like the Webbys that carries with it global prestige and money. Failing that, I accept this honor with my usual good humor and graciousness: "Thanks a lot, bitch."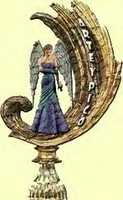 The rules for passing this honor on are:
Pick 5 blogs to which you would like to award this honor.
Each award has to have the name of the author and also a link to his or her blog to be visited by everyone.
Each award winner has to show the award and put the name and link to the blog that has given her or him the award itself.
Award-winner and the one who has given the prize have to show the link of "Arte y Pico" blog, so everyone will know the origin of this award.
And my top five are (and I have no doubt that none of them will post this or even acknowledge that I have tapped them for greatness, but WTF.)
So that's it. I love these guys, and you should too.