Thank you to RJ who shouldn't feel guilty, because I did tag the entry with "Maudlin Crap", and to CousinSteve who wrangled invitations to his sister's house (yes, that makes her my cousin, but I have so very, very many cousins) which I graciously declined. Thank you, too, to the Number Three Surrogate Daughter, who also felt responsible. Even the GirlCousin and the Smithy are feeling vaguely unsettled. I'm feeling much better now, and thank you and I'm sorry to have whined so well as to trigger an epidemic of Jewish Guilt. Snap out of it! I did.
I made four sets of stitch markers to put in the TanteLeah etsy shop. There were actually five sets, but I wasn't satisfied with one set, so until I figure out what kind of head pins to use, there may not be more sets. There's this set: huge baroque pearls and vintage Austrian crystal on a copper pin. Fits up to a US size ten needle,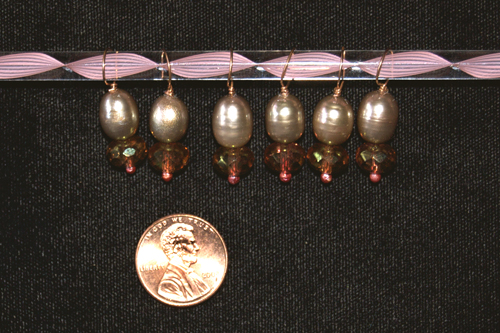 This set is vintage Austrian flower beads, a single modern glass bead and the copper head pins. Again, they fit over an American size ten needle.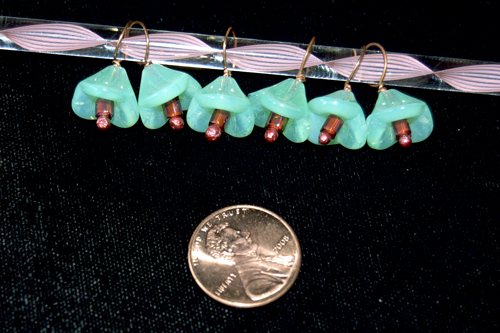 And another set on copper, these have African trade beads, vintage Austrian flowers, turquoise blue white hearts. Fits up to a US size ten needle.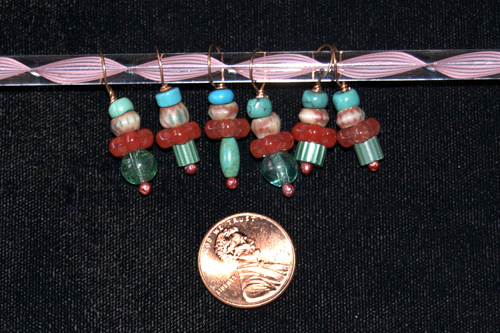 Finally, the set I'm keeping for myself: these have the tiniest little dark wooden skulls, coral, trade beads, the turquoise white hearts and wee chips of gaspeite. These only fit up to a size 9, and I think they're going to be my favorite sock markers.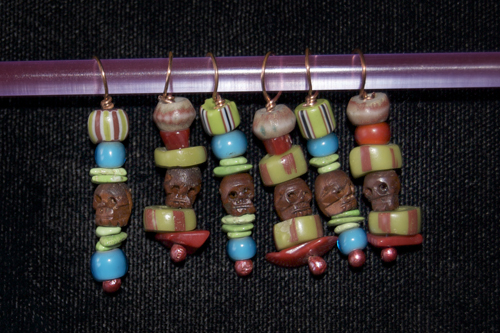 But wait! There's more. I felted a piece of the yarn I spun and plied into a very fine cord. I added a carved/painted bone button to one end and made a loop in the other. Now, I'm embroidering it with beads and pearls. I want it to get heavy, but still show the felt in places. I've been working on this since last week.