Last night I took Surrogate Daughters Two and Three (and Star, their mother) to see The Bob. Star has been to a Dylan show with me before, but I felt the need to warn the girls what they were in for. Don't, I said, expect certain things. Don't expect to necessarily enjoy the sound of his voice. While Bob's voice can be generously described as "rough" on his recordings, live, it's more like a phlegmish gargle. Don't expect to necessarily recognize any of the songs. Bob's been touring pretty much non-stop for the last 35 years, and he never plays the same thing the same way twice, much less the way it was released. Don't expect a long show. Bob plays hard and fast, and then leaves. Don't expect any interaction with the audience. Bob will not tell stories, talk between songs, or even acknowledge that there's anyone in the room besides him and his band. Don't expect to see him strap on his guitar for more than one song. (Rumor says it's a bad back?)
Star nodded sagely. Yep, pretty much. Except it wasn't. Bob was in amazingly fine voice last night. He smiled…a lot. He (I swear) almost mugged for the phone cameras in the front row. He postured. He posed. He played guitar on FOUR songs. The show ran well over an hour. His Workingman's Blues #2 was almost like the recorded version. It was, all in all, the best Dylan show I've seen in years and years. And years.
Here are my notes from the Nova Southeastern University show:
The stage is hung with black scrims, and while we wait for the show to begin, D.W. Griffith's Intolerance is projected on them. The idiot teen behind us reads (incorrectly) the title cards. His papa is indulgent. The Number Three Surrogate Daughter offers, as a certified Autism Worker/Assistant, to help the father control the boy if he needs it. This shuts them up a little.
Rainy Day Women #14 & 35

It Ain't Me, Babe (Bob on guitar for this and then next three songs, until Tryin' to Get to Heaven)

Stuck Inside of Mobile With the Memphis Blues Again (and in the middle of this, he somehow sticks in a surf guitar riff or two)

The Levee's Gonna Break

(Then he leads with a beautiful, true waltz tempo harmonica solo. Is it? Could it be??? It is.) Just Like A Woman (and he does it as an audience participation)

Honest With Me (into which he inserts funky under line of sci-fi woo-woo from the electric dobro. I can't explain it.)

Tryin' To Get To Heaven

High Water (for Charlie Patton)

Desolation Row. (And this is where Miz Shoes drops to the floor, dead from happy. I cannot even begin to explain the arrangement on this. It is not C&W, and not boogie and not blues. It contains a descending 4-note repeat)

Highway 61 Revisited (For reasons unknown, Bob sings this as Highway 65. The Surrogates and I are thrilled, because I have been reciting this to them during Rosh Hashona services since they was babies… G-d says to Abraham and all )

Workingman's Blues #2 (with an exquisite harmonica finish)

(At this point my notes say "some boogie-woogie or another" and the drunk, slightly obnoxious Dylan-head to my right tells me it's)

Thunder on the Mountain

Ballad of A Thin Man (This is an amazing version. It is all slinky rhythm. The black scrim is left black, with no lights. The band moves up. Dylan takes the mike at center stage. The band is lit with a flat yellow light, and the whole look and feel is like a vaudville minstrel show. It is absolutely fucking perfect, and the end of the show. They come back for an encore of)

Jolene

Like A Rolling Stone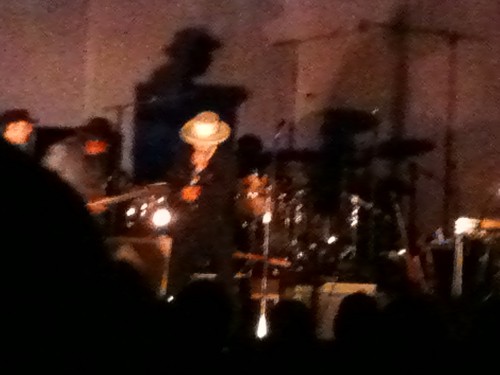 It was the best I've seen him in years. Miz Shoes is a tired, happy woman today.
ETA: Just ganked this from YouTube. Shot with a camera phone, it isn't exceptional footage, but it is the show from last night.