It was pouring when we arrived at the show, but we were able to park close to the gate, so when the weather abated a bit, we ran for it. Got in and missed the lottery, but were early enough that we were right behind the fence to the pit, so not so bad at all, and I parked us on Little Steven's side of the stage.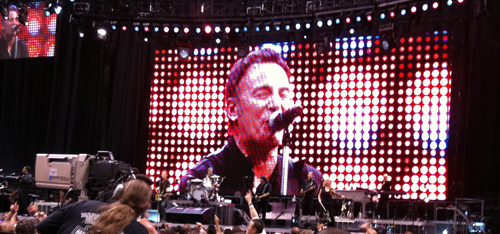 Here's the set list from Ft. Lauderdale, September 13, 2009
Working on the Highway

Badlands

Night

Cover Me

Outlaw Pete

Out in the Street

Working on a Dream

(first request) Sherry Darlin' and Roy, Nils and the new guy all play accordion on it

It's All Gone

Johnny 99 ( and a righteous rip-roaring version it is)

Working Life

(then Stevie vamps while Bruce collects request signs from the audience, and arranges them on the stage to review)

Be True

Cadillac Ranch

So Young and In Love

Waiting on a Sunny Day

Promised Land

Backstreets

Radio Nowhere

Lonesome Day

The RIsing
Born To Run

And Then She Kissed Me (another request)

Jungleland

Hard Times Come Again No More

American Land

Dancing in the Dark

Thunder Road
Somewhere around Jungleland, I had my moment of pure grace, where the music poured through me, and the energy in the room filled me with a sense of community. It is a religious experience. It is the church of rock and roll. And so to bed.
And now, the next morning, I can compare this to the typed set list that the security guard gave me:
Working on the Highway

Badlands

Night

Outlaw Pete

St. In the City

Working on a Drew

Atlantic City

Seeds

Johnny 99

Raise Your Hand

?

?

?

Waiting on a Sunny Day

The Promised Land

Backstreets

Lonesome Day

The Rising

Born to Run
Hard Times

Thunder Road

American Land

Dancing in the Dark

Hungry Heart